There is no doubt that Tencent's PUBG is the most popular mobile game in India even after the controversies of the ban. Tencent is about to launch its UPI-powered payment app named WeChat Pay in India, expected in the next two-three months.
UPI stands for Unified Payment Interface, an instant real-time payment system developed by National Payments Corporation of India (NPCI) facilitating inter-bank transactions.
Some UPI statistics of February 2019:
139 banks are live on UPI.
674.19 Mn transaction has been performed during the month.
Total sum amount transacted is INR 1,06,737.12 Crores.
Average Amount Per Transaction is INR 1583.
In December 2018, UPI transactions have crossed the mark of INR 1 trillion and payment companies want to take advantage of the potential market, so encouraging users in the direction. WeChat also has a very big user base in China and desired to try the same in the growing payment industry of India.
WeChat Pay in China
WeChat Pay is an integral part of the WeChat App and the second largest payment app in China after Ali Pay. The company claims to have the 1 billion Daily Active Users (DAU) on WeChat App and 900 million monthly users on WeChat Pay. WeChat had a contribution of $50 billion in China's economy in 2017.
WeChat Pay offers multiple payment methods: by Bar code or QR code. Vendors and users can scan the code to make and receive the payment.
The company also offers the cross-currency settlements, it settles the transactions with the foreign vendors based on the local currency price rate. And it also has an auto conversion feature to allow the shopper to make payment to the overseas vendors in local currency only i.e. CNY.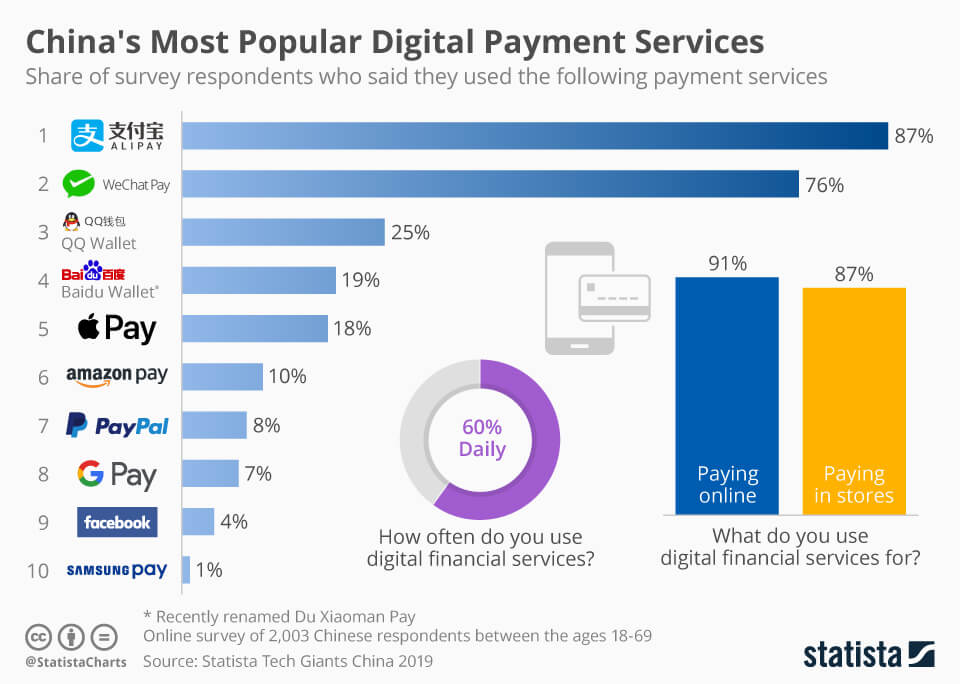 Challenges for WeChat Pay in India
NPCI is the governing authority for all the electronic payment systems in India. It has also developed its UPI-based mobile payment app called BHIM.
Besides this, NPCI has also issued the UPI payments license to 45+ third-party apps. Amongst these, Paytm UPI, Google Pay (Tez) and PhonePe are the top contributors in the overall UPI transactions. Some utility apps such as Ola, Uber, FastAg, Flipkart, Hike, TrueCaller, Mobikwik, Swiggy and ShareIt also offer the UPI payment services.
Recently Xiaomi's Mi Pay & Amazon Pay have also joined the league. Even WhatsApp is on beta testing of the UPI payments. Credit card payment app Cred and Local search engine JustDial are also testing the UPI under Closed User Group (CUG).
Amidst all the chaos, an announcement by WeChat has increased the temperature in the UPI battleground, but the path for "WeChat Pay" is not going to be easy in the Indian market because the company will be in direct competition with these apps.
For the initial phase, Tencent had partnered with HDFC, Axis & ICICI bank to settle the payments and also trying its hands to get it's own UPI handle (@wepay).