Sachin Bhatia's third venture Bulbul: A Hinglish Video Shopping App has secured INR 14 crores in its seed funding round. Bulbul is an influencer driven, e-commerce app, launched in March 2019. The app offers an easy environment for the users where they can see a live demonstration of products in the Indian language(s).
Investor bench includes Sequoia Capital India, Leo Capital India, 10XF and Rajul Garg (Founder and Managing Partner of Leo Capital India). Mohan Lakhamraju, Director of SmartOwner also made his official debut as an investor in this deal.
Sachin is the CEO of TrulyMadly, a dating and matchmaking app & also co-founder and ex-CMO of MakeMyTrip. He started working on this app from November 2018 with Atit Jain, co-founder of medicine delivery app Pluss, which was later acquired by online pharmacy Netmeds in 2016.
Bulbul App concept is influenced by the "Live Shopping" from China. Amazon also tried its hands in a daily live shopping program called "Style Code Live" in 2016, which got canceled after a year. This concept of live shopping can be termed as ENTERTAINMERCE.
How Bulbul is different from other E-commerce apps?
Do you remember those Naptol and HS18 TV commercials? Bulbul is a similar concept, where an influencer is explaining about product specifications, details through short videos. The user can do the live chat, share the product and purchase easily direct from the app.
Of late, India is very much engrossed with the short videos apps like TikTok, music.ly, and Bigo Live. Apparently, Bulbul has extended the consumption habits of short video content and modulated the app in the format that a user can directly relate to. Even on Instagram, you can see many influencers and pages are promoting products to a large followers base. Instagram on the toe to launch its in-app purchase with the "Buy" button.
Bulbul is providing the products in the kitchen, apparel, makeup, decor, skin care, health care, and Jewelry category. The user can see the live product demo, Ask questions in Live, check multiple options and get an option to pay through Paytm or by Cash on Delivery.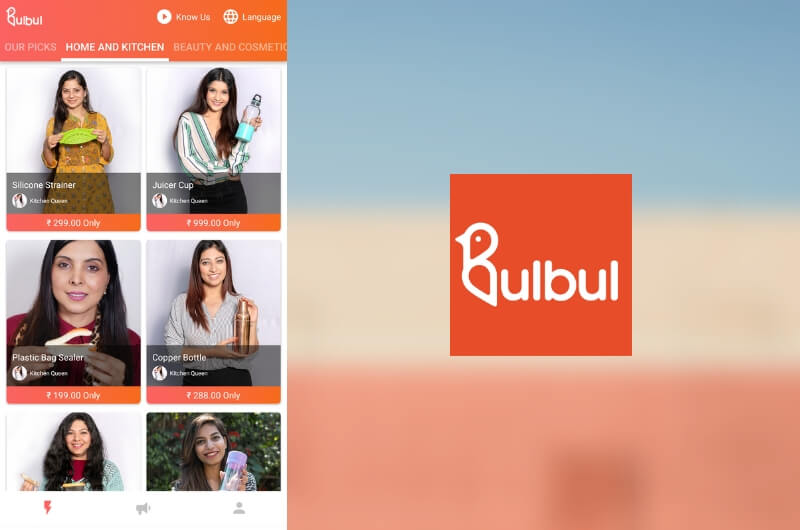 The app has crossed 5000+ downloads on google play store and is targeting the potential customers outside the Tier-1 cities too. Currently, the app has English and Hindi as the preferred languages and the addition of other Indian Languages is expected in the later versions.